Through BSL Clinic, Bangkok Slimming Center was established with the aim of giving patients the motivation and confidence to succeed in pursuing their weight loss aspirations. The Center addresses excess body fat areas of both men and women. After determining these problem areas, we will assist you in choosing the type of treatment that is most suitable and effective in eliminating your stubborn fat. Having an attractive and sculpted body shape can result in a significant boost to your self-confidence, which is then positively reflected onto all aspects of your life.
The Center is dedicated to customizing treatment plans to meet your needs, that will deliver the quality results you are looking for, in a way that diet and exercise alone cannot achieve. We understand that every individual has their own weight loss aspirations. Bangkok Slimming Center by BSL strives to encourage and inspire you to be in the best shape of your lives. We assist each and every one of you to achieve your weight loss targets.
In the years between 2014-2019, non-invasive body contouring treatments grew in popularity by up to 40%. At Bangkok Slimming Center by BSL, we offer the most advanced and efficient non-invasive body contouring technologies. The technologies utilised during treatments include High-Intensity Focused Ultrasound (HIFU), Micro and Macro-Focused Ultrasound (MMFU) and Radio Frequency (RF). It gives you the opportunity to effortlessly create your ideal body shape. Our treatments involve targeting specific areas of the body to reduce excess fat and to tighten skin. Approximately 20-40% of excess body fat on the upper arms, abdomen, flanks, bra rolls, love handles, thighs, knees, calves, banana rolls (underneath the buttocks) or double chin can be treated, involving no downtime. Bangkok Slimming Center by BSL have thoroughly gathered research on the most effective technologies for eliminating fat cells and to create a firmer, leaner body figure through skin tightening.
เพื่อรูปร่างที่ดูดีอย่างมั่นใจ ไว้ใจให้ Bangkok Slimming Center by BSL
มีความเชี่ยวชาญเฉพาะด้าน
มีเทคโนโลยีที่ได้มาตรฐานและทันสมัย
เห็นผลลัพธ์หลังการรักษาได้จริง
มีการรักษาที่เหมาะสมเฉพาะแต่ละบุคคล
มีความใส่ใจให้บริการเป็นอย่างดี
เป็นผู้นำด้านกระชับสัดส่วนสลายไขมันในกรุงเทพฯ
BSL Clinic's Visions:
The foundations of BSL Clinic came from an aspiration of fulfilling the desires for happiness of their patients. BSL Clinic notably adheres to the highest internationally recognised medical standards and ethics and provides exceptional care to their patients. The Clinic offers world-class treatments that deliver positive results and experiences to their patients. BSL Clinic has absolute determination in turning its visions and aspirations into reality and has already created profound impacts presently seen within the dermatology community.
BSL Clinic's Mission:
BSL Clinic's long-term goals and achievements are to establish the patient's values, purposes, increase their self-confidence, improve their overall quality and to live a meaningful fulfilled life. It aims to:
Conduct highly professional skin and laser aesthetic treatments based on scientific research and trials. Medical staff are required to undergo continuing professional development (CPD) through readings of various high-level journals including the Surgical and Cosmetic Dermatology, Lasers in Medical Science, Laser Europe conference, American Society for Laser Medicine and Surgery (ASLMS).
Create individualised aesthetic treatment plans for patients attending BSL Clinic. BSL Clinic's dermatologists understands the importance of a patient's unique personal characteristics and therefore caters explicitly to each patient's aesthetic goals.
Maintain safety through upholding the highest internationally recognised medical standards and ethics when offering exceptional services and care in treating their patients. Infection control procedures are accurately undertaken at all times to ensure that medical equipment is absolutely safe.
Build rapport based on trust between BSL Clinic's dermatologists and their patients. BSL Clinic is a global leader in the treatment of personal aesthetics and it continuously maintains a firm reputation in the dermatology community through their professional expertise and utilisation of advanced non-invasive laser technologies.
BSL Clinic's Dermatologists: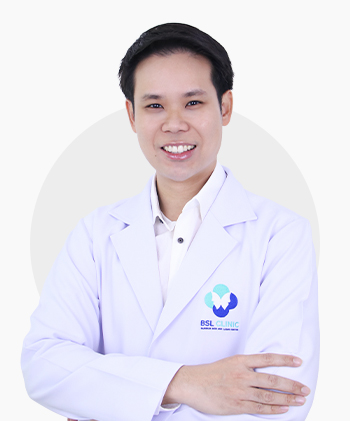 Dr Wutinan Sithipolvanichgul, M.D.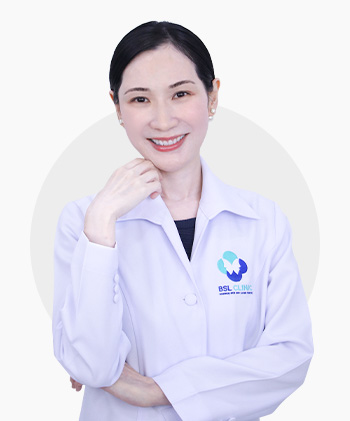 Dr Wipanee Akarapusit, M.D.